Hello mate! Do you know your Facebook page is being tracked by some unknown soul? Everything what you do and everything what your fans do is being recorded. Whatever is happening on your page is noticed by that unknown thing. But don't worry I'm not gonna talk about a big headed alien. It's just Facebook itself which is recording all these things which is very useful for admin to know what's actually going on the page. Let's see how.
Just click on the button "See Insights" which is appearing at the top of your page timeline.  and you will see an interface like below.
"Overview" of Facebook Insights
The first tab that will appear when you will click the "see sight" button will be the "overview" tab. In this tab you will find the overall performance of your page of last week.
In this you can find your total Facebook likes and weekly performance. The 1st graph (left) is showing the seven day performance. You can find that which day you did best. You can observe what you did best on that day and find out which kind of things can help you get more likes. You can also see the comparative graph of last week to have a better idea. You can also click this box to see it in more detail.
 Page Reach
The 2nd graph in middle shows that what your page reach was this week in seven days. Knowing about reach is very important for the admin to know what kind of activities or posts reach to more people. Reach actually counts the people who were able to see your posts so more reach means more chances of attracting people and getting likes. You can also see the comparative graph of last week to have a better idea. You can also click this box to see it in more detail.
People Actually Engaged
The last box shows how many people actually engaged to you. Engage includes the people who react to reach in shape of click, share, like or comment. So you can have an Idea how your campaign is going. And don't forget to click it if you wanna see it in more detail.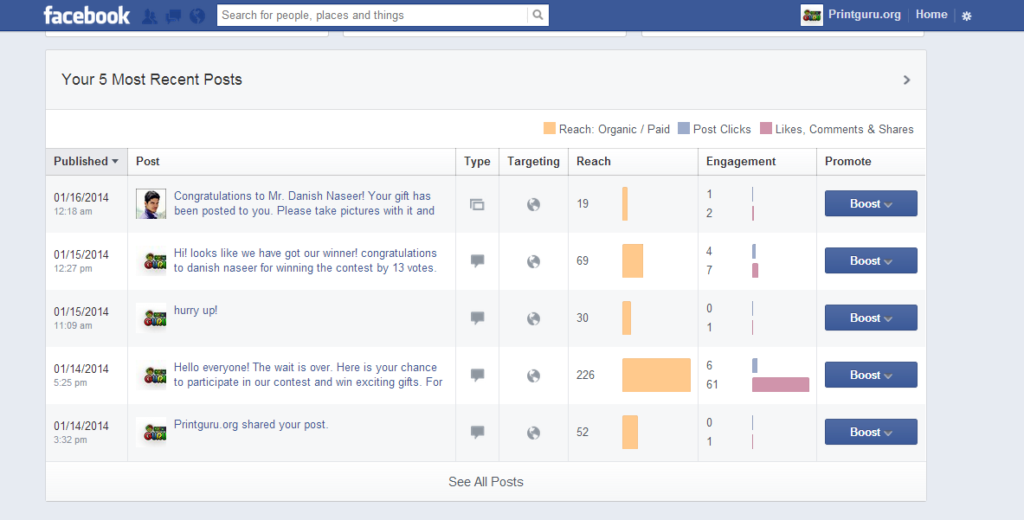 This is also an important part of insight as you can track your last few posts here that how they worked. You can see the actual performance in shape of reach and engagement. You can check which kind of post is doing well, reaching to more people and getting more engagement. Like in the example above the 4th post did so well so we can have an idea what kind of things we should posts. You can click any post to break it down in more detailed data record.
But before anything, even to get the "see insight" button you have to get few likes first. It's obvious that you should have fans to see fans insight. So you have to get some fans on your page. That is also not a big deal. I've always been talking about it in my different articles. You can have some ideas from the following blog posts
For faster results you can outsource it to someone who is specialized in this field like (1000-likes.com). They can promote your page in just few hours and you can get great results very fast as they can put your page on high traffic pages where it is noticed by large number of people and they like your page. So promoting your page is not a big deal for them and what they need is only your URL and that's it. So make your choice now and click the button below to choose your desired package to get started.