Every photo you see on Facebook has a unique URL. You can get that URL and send it to anyone that will allow him to view the photo even without login to Facebook. There are many reasons why you need to get Facebook photo like URL, You can put this URL on website or blog to allow non-Facebook users to view your photo or you want to get Facebook likes for that photo so that general public can like that photo. Normally those who are not in your friend list.
Get Post URL on Facebook:
It is very easy and you just need to follow these simple steps to get Facebook photo URL for any photo that is shared on any profile or Facebook page.
1 – Open the profile or page where photo is shared
2 – Click on the link showing time when it was shared (see screenshot below)
3 – On the next page copy the URL from the address bar of your browser
4 – This is the unique photo URL for Facebook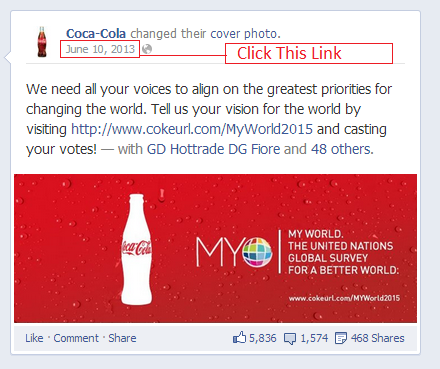 Difference between Public post and Private Post on Facebook:
There are two ways to share a photo.
Privately shared
Publicly shared
Photos can be shared as a Publicly or Privately. Each photo whether it is shared publicly or privately has an icon that shows if it is public or private.
You can see publicly shared photos whether you are friend or not. And you can also Like and Share that photo. Publicly shared photos have a globe icon as show in the below screenshot.
You can see publicly shared photos whether you are friend or not. And you can also Like and Share this photo. If you want that your photo likes increase then you share it must be publicly.
How to Share Photo Privately and Publicly on Facebook:
If you want to share photo privately then go to add photo and selects friends from friends drop down menu and post it. As shown in below.
If you want to share photo publicly you need to select public from the friends drop down menu. In this way your photo will be visible to all.
Get Likes And Shares For  Facebook Photos:
We have a system by which we can deliver real Facebook photo likes and shares for any photo which is shared publicly on Facebook. What we do we advertise your photo to a lot of people on Facebook. When your photo is shared publicly then it is easy to get its URL and anyone who is not your friend can easily likes your photo or share. Click the button below to get Facebook Likes and Shares.